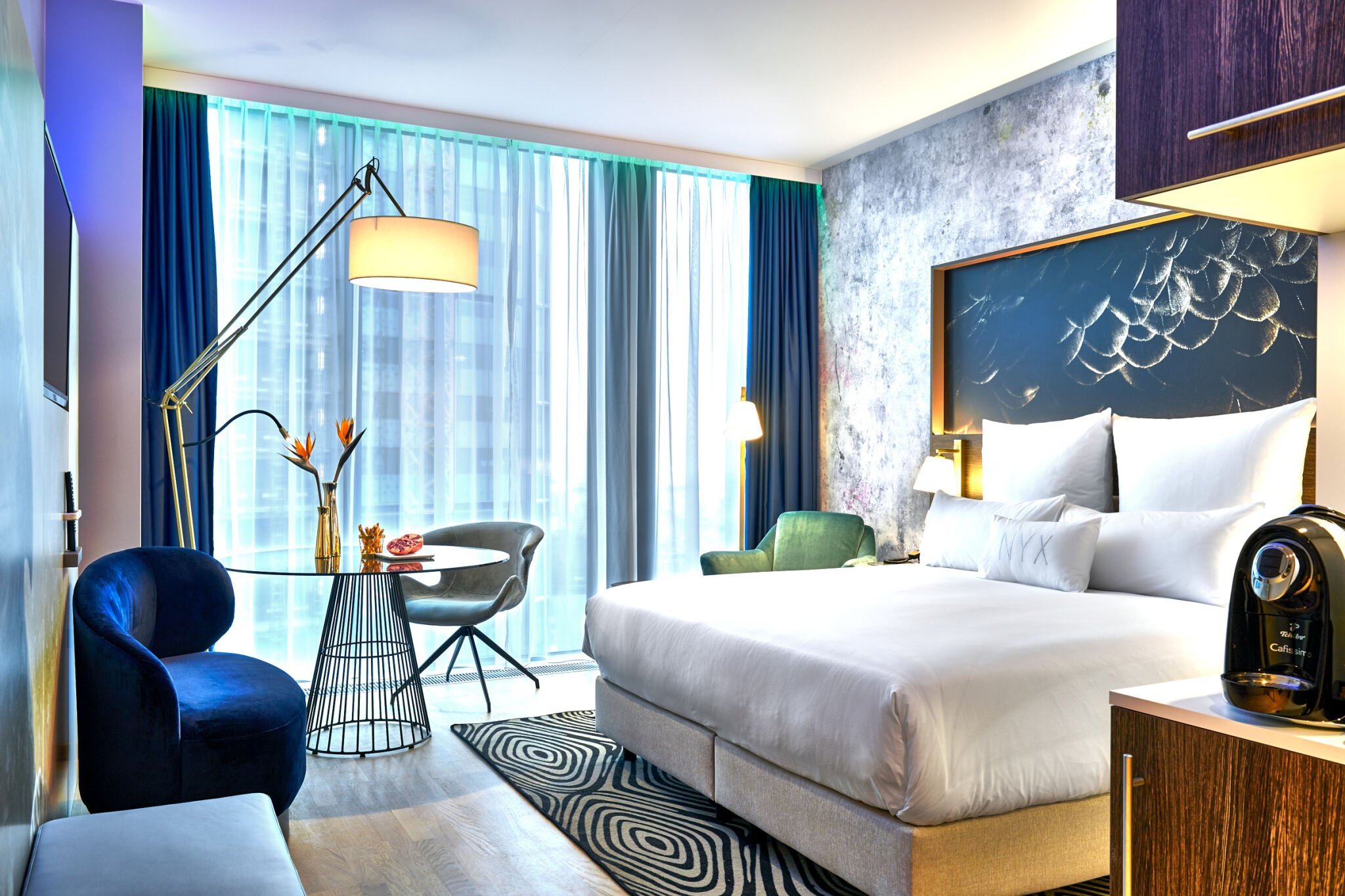 Gäste-Bewertungen
An outstanding hotel with the most amazing staff and service. The hotel's location is perfect for travelling around Warsaw - close to trains/tramps and buses. A 20min walk takes you to the old city. Overall NYX is the best
Great location, we love staying here. Some minor issues but overall solved expertly.
It was ok, I am satisfied"
Hotel in a great location, friendly service, fantastic breakfast, the problem was with the coffee machine, I asked a lady from the staff, she mixed the stirrer and decided that it was ok, but it will not work. I did not drink coffee that day because 1 out of 2 expresses did not work and in the second there was a long queue. t was difficult to use the soap dispenser on the sink and in the shower, it was necessary to use a lot of force to make the soap fall out.The iron was also difficult, as the cable attached to the board prevented the iron from moving freely.
Härligt och modernt hotel som vi gärna återkommer till. Vi hade ett stort rum för tre med fint badrum. Rent och snyggt överallt . Hotellfrukosten var jättebra . Synd bara att rooftop baren var stängd :( det var bl.a därför vi bokade hotellet. Hörde att många gäster var besvikna. Tips till hotellet….. bygg in baren så den kan användas året om
It was one of the best hotels we have ever stayed. Our room was in 16tth floor and the view of Warsaw was magnificent from over there. The breakfast was simply great, with a variety of food to choose. The room was spacious, with almost everything we could need. We came for a conference in Warsaw, but the stay was very enjoyable in the room, as we had to spend quite many hours in the room. The bed was big and comfortable, and we slept very well, although our 2 years old kid, slept with us in the same bed. The NYX hotel is close to public transport, restaurants, attractions, and shops, but someone could walk on them very easily. One thing can be improved is the cleanliness of rooms from dust. As we stayed quite many hours in the room due to obligations, dust was accumulating all over the place. Another thing we noticed, is that there are no specific steps during the tidy up of the room, meaning that the same hands took the garbages, the same hands brought the clean stuff (towels, glasses, water etc).
Did not like partikulary bad sound insulation, sewer smell in the room.
Good to Know
Kostenloses unbegrenztes W-LAN
Behindertengerechte Zimmer:
Behindertengerechtes Hotel
Aufladestation für Elektro-Autos
9 Ladestationen, Reservierung ist nicht möglich
Hoteleigene Tiefgarage:
10 PLN pro Stunde, 240 PLN pro Tag, eine Reservierung ist nicht möglich
Mehrsprachige Mitarbeiter
Öffentliche Parkplätze in der Nähe:
95,90 PLN pro Tag, eine Reservierung ist nicht möglich
Dienstleistungen
Frühstücksbuffet:

Restaurant

Bar

Rooftop Bar

Grab'n'Go
Mutter-Kind-Zimmer

Billiard

Abendveranstaltungen

Willkommen Kinder Paket

Kinder-Ecke
Flughafen Shuttle

95 PLN pro Fahrt und Person, eine Reservierung ist nicht möglich

Kostenlose Baby-/ Kinderbetten:

Weckruf

Gepäckaufbewahrung

Wäscheservice

Bügelservice

Safe an der Rezeption

Zimmerservice
Retro-Spiele

Digitale Zeitung

Fotokabine